rip i played this game since i was 5 i was pro when it shut down and 11
rip you will be missed ;[
Welcome to the Super Battle Tactics Wiki
Wiki for the Mobage game Super Battle Tactics
The Game
Super battle tactics is a turn based strategy game made for android and originally created by DeNa studios Canada ltd. Players compete with teams of 4 tanks against other players and computer created teams to win parts and money. Parts and money are used to build and upgrade player tanks
NOTICE: The game got shut down
The game is no longer accessible and there is no hope for the game!
A moment of silence for our beloved game...........ahhhh, this games used to bring memories it was such a good game but guys rem ember nothing stays forever in this world.
Warning: do not edit this page anymore
I am planning on making it no longer editable!
Main Page Links
Assault Tanks, Defense Tanks, Scout Tanks
Common Tanks, Uncommon Tanks, Rare Tanks, Super Rare Tanks
Latest activity
Photos and videos are a great way to add visuals to your wiki. Find videos about your topic by exploring Wikia's Video Library.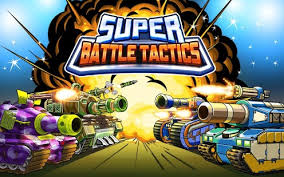 Community content is available under
CC-BY-SA
unless otherwise noted.